Skip to Content
Skin Cancer Diagnostic & Treatment
Skin Cancer And Treatments
Divine Dermatology specializes in diagnosing and treating skin cancer for patients in the Fort Collins, CO area. Skin cancer affects more people worldwide than any other form of cancer. As such, skin screenings should be performed routinely to detect common skin cancers, including basal cell carcinoma, squamous cell carcinoma, and melanomas, as well as for rarer forms of skin cancer such as Merkel cell carcinoma and various sarcomas.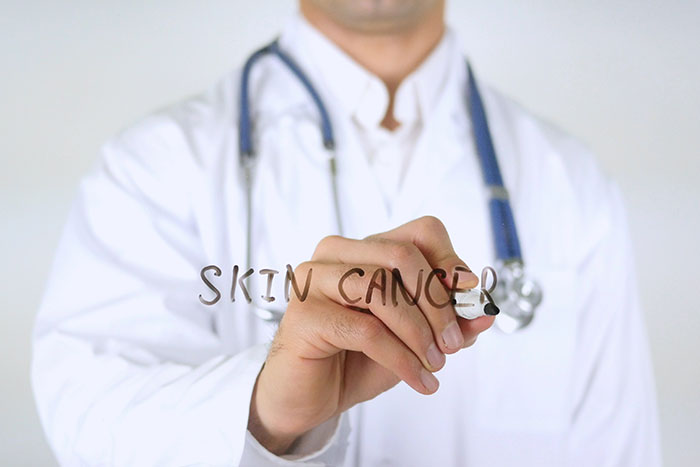 Types of Skin Cancer We Treat
Unfortunately, there are several types of skin cancer, but the good news is a wide range of treatment options available. Divine Dermatology treats actinic keratosis, which is a pre-cancerous growth. It isn't technically skin cancer, but it can develop into something more serious if left untreated. The most common type of skin cancer is basal cell carcinoma. Squamous cell carcinoma is the second-most common form of skin cancer. It grows slowly but can cause serious damage if left untreated. Bowen's disease has many effective treatments but can become serious if it's not properly addressed early. Melanoma is known as the most serious type of skin cancer because it can spread easily. Merkel cell carcinoma is rare but should be taken seriously due to its ability to spread. Our team of compassionate physicians has experience diagnosing and treating all types of skin cancer.
Skin Cancer Treatment Options
For as many types of skin cancer as there are, there are just about as many treatments available. Excision skin cancer treatments involve the simple removal of skin cancer. Curettage and electrodessication treatment would be a difficult puzzle to solve on Wheel of Fortune but is an effective method for treating skin cancer using a combination approach. Mohs surgery is a popular option due to its high levels of success. Other skin cancer treatment options in Fort Collins, CO include topical treatments, radiation therapy, chemotherapy, targeted drug therapy, immunotherapy, and freezing techniques. Our team of experienced and knowledgeable dermatologists will assess your options and perform the methods best suited to remove your skin cancer.
Preventing Skin Cancer
While skin cancer can't always be avoided, there are certain things you can do to lower your chances of developing this disease. The most effective way is to limit your exposure to the sun. Use sunscreen with a high SPF and wear protective clothing such as long sleeves, hats, and sunglasses. Visit a dermatologist regularly for your annual exam. Our team will provide a thorough skin cancer screening and perform effective skin cancer treatment options if necessary. It's also important to perform regular self-exams to look for anything out of the ordinary on your skin. At the first sign of anything unusual, be sure to schedule an appointment with us.
Recognizing Skin Cancer
Unfortunately, skin cancer does not have a universal appearance. Each type of skin cancer can look a little different, so it's recommended to schedule an appointment with the trusted dermatologists at Divine Dermatology as soon as you notice any skin irregularities. Moles should always be checked, as should any red patches or nodules on your skin. Skin cancer is most likely to occur on parts of your body that are most frequently exposed to the sun, including your scalp, neck, arms, and chest. The dermatologists at Divine Dermatology are trained to recognize potential skin cancer and perform the necessary tests to confirm it. We've successfully treated thousands of patients at our office in Fort Collins, CO, and we can help you get through every step of the process.
Advanced Dermatology and Skin Cancer Specialists
Trust the experts at Divine Dermatology to help protect you from skin cancer of all types. We specialize in the diagnosis and treatment of skin cancer using the best techniques like Mohs surgery. In addition to the skin cancer services we provide, our team of experienced and caring professionals also specializes in treating common and rare skin conditions, acne, and cancerous moles at our offices in Loveland and Fort Collins, CO. We're also experts in cosmetic dermatology services including Botox® and laser aesthetic treatments. No matter what skincare services you need, we have you covered. Contact us today to schedule your appointment.