Skip to Content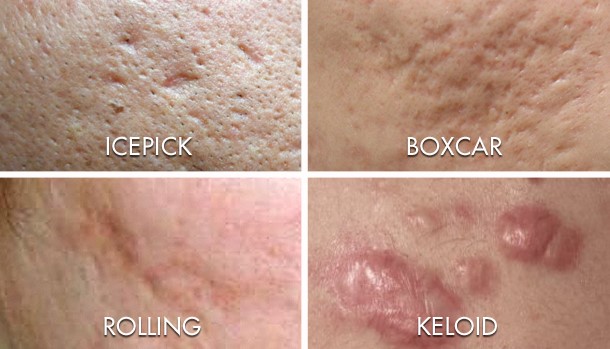 Acne Scar Treatment
If acne scars bother you, safe and effective treatment is available. Treatment can diminish acne scars that cause depressions or elevations in the skin.
Treatments include laser treatments, minor skin surgeries, chemical peels, and fillers. A dermatologist or a dermatologic surgeon can perform these treatments in a medical office.
Before getting treatment for acne scars, it is important to get your acne under good control. New acne breakouts can lead to new acne scars.
There are many different types of acne scars including icepick, boxcar, rolling, and keloid.
Treatment Options
1540 Fractional Laser Resurfacing
Our 1540 erbium glass fractional laser is the ultimate in non-ablative, non-invasive laser treatments for skin resurfacing and rejuvenation for those who want dramatically younger and smoother skin. This revolutionary laser is able to penetrate deep under the surface of the skin into the dermis to rebuild larger imperfections and improve more severe sun damage. Highly precise microscopic thermal channels induce direct collagen tightening and stimulate natural repair processes that lead to a new layer of plumper, healthier skin. This updated technology is safer, with fewer complications and minimal downtime compared to other options on the market today. It can also be safely used on dark and very dark skin tones. Treatment is ideal for those with busy schedules who still need big results. Old and new acne scars, surgical scars and stretch marks can be effectively treated and their appearance diminished. Sagging and/or pitted skin will be tighter, fuller, and dramatically smoother.
MaxG
This high-intensity light technology offers safe and superior clearance of vascular and pigmented lesions that goes beyond single-wavelength lasers. This laser uses an intense but gentle beam of light to remove red and brown spots without damaging the surrounding tissue. The small spot size is able to target individual broken blood capillaries and generalized redness virtually anywhere, including the cheeks, corners of the nose, and even around the eyes. Redness can also be removed from scars and stretch marks. Bothersome brown spots including freckles and seborrheic keratosis will flake away. This treatment is an excellent addition to your antiaging and rosacea regimen to get rid of those stubborn spots.
Chemical Peel
Medium depth TCA peels are a tried and true in-office treatment targeting sun spots, melasma, acne, fine lines, rough texture, large pores and dullness. The peel intensity is completely customizable to your skin type and allowed downtime. You can expect visible peeling, redness, and heat. Downtime ranges from 5 to 14 days. This medium-depth peel results in significant peeling and very noticeable results
Microneedling
Also known as Collagen Induction Therapy, Microneedling is a non-surgical, minimally invasive procedure used to stimulate collagen production. When moved across the skin, the device creates thousands of microscopic perforations per second. In response, the body releases growth factors to tighten and plump collagen. With these micro-channels still open, the skin is simultaneously infused with hyaluronic acid serum rich in copper, zinc and magnesium. A Vitamin C therapy is also available. This technology increases skin elasticity and diminishes the appearance of fine lines, deep wrinkles, acne scars, surgical scars, stretch marks, poor texture and much more. The treatment can be performed on nearly any area of the body. It is ideal for men and women who want younger looking skin with less imperfections. Intensity is completely customizable. Downtime ranges from 1 to 5 days and can be adjusted to meet your needs.
Restylane®
These products are a clear gel formulation of hyaluronic acid, a natural sugar that is already present in your skin, and gives your skin plumpness, volume and hydration. Hyaluronic acid is biocompatible with the human body and is naturally broken down with time. Dermal fillers can be used to fill acne scars to increase fullness. Restylane® lasts for approximately 6 to 18 months. Regular maintenance injections can often prolong the life of the filler and add a building and more beneficial result. Rewards and savings are available through Galderma's ASPIRE program as well as during sales and promotion throughout the year
Surgical Removal
Select acne scars may be surgically removed. Large depressed scars can be physically cut out and the edges of skin brought together and sealed with stitches. A new scar is formed up to the surface level of the skin, making them appear less noticeable.